Kauai's Kokee State Park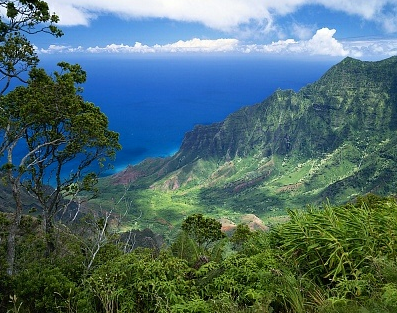 Since my post yesterday discussed Kauai's Waimea Canyon, it is only fitting that today I discuss the island's Kokee State Park, as the main road that winds along the canyon ends in this park.
The Kokee State Park is sits on the western side of the island, just north of the Waimea Canyon. The park is spread out over some 4,345 acres of land that sits about 3,200 to 4,200 feet above the sea level. With such dimensions, you can only imagine the grand views that this park has to offer.
The land here is blanketed with rich forest, which is filled with beautiful native wild flowers and other species of wild life. There are several types of native species of animal life that call the Kokee State Park home, including the colorful iwi and moa forest birds. If you want to get a chance to see the flora, fauna and amazing views that this park has to offer, head out on a hike; there are some 45 miles of hiking trails that run throughout the park and are regarded as some of the best hiking trails in the entire state of Hawaii – now that's a bold statement and really a true one. With so many miles of hiking trails, there is a trail that will suit those with any type of hiking experience, from beginners to experts. Whichever trail you choose to travel, you are sure to be delighted by what you see; some trails lead to views of the Waimea Canyon and others offer views of the Pacific Ocean. All of the trails of this park wind through the lush forest land.
Whichever path you choose to travel, you should check out two of the most stunning lookouts that the park has to offer; the Kalalau Lookout and the Puu O Kila Lookout. At both, you will see awe-inspiring views of the Kalalau Valley, which stretches out across the land and meets the sea.
Before you head out on your excursion, I highly suggest that you stop at the Kokee Natural History Museum. Here, you will find out a lot of information about the state park, including how it was formed and points of interest, as well as ways to successfully hike through and daily weather and conditions.
A trip to the Kokee State Park is something that should absolutely be on your "To Do" list when visiting the amazing island of Kauai.