Hawaii Volcanoes National Park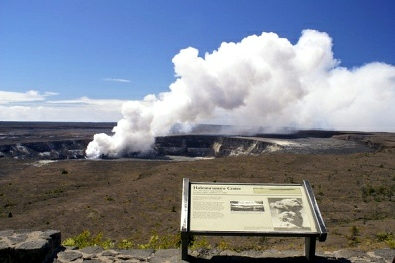 Have you ever wondered what it would be like to see land forming right before your very eyes? If so, then you need to pay a visit to Hawaii Volcanoes National Park on Hawaii's Big Island.
Situated just about 30 miles southwest of Hilo is the Kilauea volcano; one of the most active volcanoes on the entire planet. It is here that you will be able to see for yourself the true power of our earth. As molten lava flows from the core of the earth, out of the Kilauea volcano, it pours out into the sea, where it cools on contact, creating more land and adding more square footage to Hawaii's Big Island. I have to say that I have seen some truly amazing things throughout my travels on this great planet of ours and this has got to be one of the most amazing things that I have ever seen. To be able to witness the process of the creation of land right before your eyes is really an unrivaled experience.
Hawaii Volcanoes National Park is about 333,000 acres large and spans from the summit of Maunaloa (the other active volcano that is part of this national park) right to the sea. The park, which was founded in 1916, not only is home to this most magnificent site, but it is also home to some truly spectacular hiking trails – about 150 miles of trails, to be exact. These trails wonder through the volcanic craters and the scorched landscapes that have been singed over the years by the destructive force of the hot magma. You will also find a museum inside this park, which highlights the history of the landscape and the volcano, as well as petroglyhps and even a lava tube that you can walk in.
Maunaloa last erupted in 1984 and is still a very active volcano and there is no telling when it will erupt again. Kilauea, on the other hand, has been steadily erupting since 1983 and continues to do so today, with no end in sight. In fact, this volcano creates anywhere from 250,000 to 650,000 cubic yards of lava A DAY! Now, that truly is an amazing feat. Since 1994, the volcano has added 491 acres of new land to the island of Hawaii – like I said, you can literally watch new land being created here on a daily basis.
Hawaii Volcanoes National Park is truly an amazing sight to behold and something that you simply must do on your visit to this island.