Beaches of the Big Island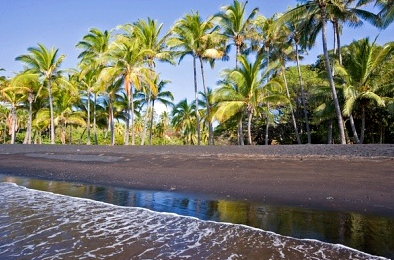 Just as you would expect on any of the Hawaiian Islands, there are no shortage of great beaches on the Big Island. No matter what coast you go to – the north, south, east or west – you are sure to find an amazing beach to explore. Whether you want to relax while soaking up the sun and surf on one of the beaches of the Big Island, or you want to try out your surfing shoes, you are sure to find a beach on this island that will suit your interests.

Kolekole Beach Park. Just north of Hilo, about 12 miles or so, on the Hamakua Coast, you will find this incredible beach oasis. The Kolekole Beach Park is a jungle amidst the ocean, where you will find streams, waterfalls and a banyan tree that, complete with a rope swing for falling into the water. This beach is truly a laid back location where you can enjoy being one with nature.
Onekahakaha Beach Park. If you are looking for calm waters that are safe for swimming, then you need to check out this beach. Situated along the Hilo coast, this is a small beach with a shallow ocean pool that is lined with sand. There are small tide pools and inlets where you can enjoy swimming and snorkeling. It truly is a great place to experience the beach with little ones, as the waters here are so calm.
Punaluu Black Sand Beach. About 30 miles south of the famous Hawaii Volcanoes National Park is the beach that is just as famous; the Punaluu Black Sand Beach. The sands on this beach are black, thanks to the volcanoes of the island and truly make for an unbelievable sight to see. Not only is the black sand truly remarkable, but so are the green sea turtles that come ashore and bask in the sun on the black sand. I absolutely love this beach and if you really want to spend some time exploring it, there is a campground nearby where you can spend a few days camping out.
Samuel Spencer Beach Park. Situated just outside of the Historic Kailua Village, you will find this incredible stretch of beach. The water here is protected by a reef, which makes for calm surf to enjoy swimming and snorkeling in. Enjoy a full day here, as there are picnic pavilions, complete with grills and tables, where you can fire up a few meals.