About Lanai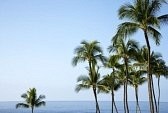 So, over the past few weeks I have given you some insight into some of the islands of Hawaii, including, of course, Maui, as well as Kauai and the Big Island. For this week, I have decided to continue the trend of educating you about the lovely islands of Hawaii and this week's island of focus is the lovely Lanai.
Lanai is, simply put, laid back and completely relaxed. I know that this is the vibe that all of the Hawaiian Islands give off, but in Lanai, the laid back vibe can really and truly be felt. Being laid back is such a way of life here, in fact, that there is not a single traffic light located on the island. Sounds crazy to use busy folks who are always on the go, go, go, but in Lanai, there is no go, go, go; the people here really do stop to smell the roses.
The island of Lanai is located just 9 miles from the shores of Maui, yet it truly feels like it is a world away from the island. This is the smallest island in the Hawaiian chain that is actually inhabited and you can really gain an understanding of the simplistic lifestyle that is lived here.
Though the island of Lanai may be small, there is no shortage of things to do while you are here. One of the most popular things to do here include hiking along the famous Munro Trail, where you can take in truly amazing views of the island and become one with nature. Another activity that visitors and locals alike enjoy doing is looking out over Hulopoe Bay, where it isn't unusual to see a playful dolphin or two splashing around in the water. The Garden of the Gods is another place that people just love to explore and something that I personally do each time that I visit Lanai.
Now, just because Lanai is so small and the lifestyle is so laid back, it does not mean that you can't find luxury on this island. In fact, the island is home to some truly impressive and high class resorts. There are many resorts that offer world-class amenities, such as spas, swimming pools and five-star restaurants. You will also find some impeccable golf courses on this island.
If you want to experience a truly serene vacation in Hawaii, then I highly suggest you visit the island of Lanai.