Kauai's Waimea Canyon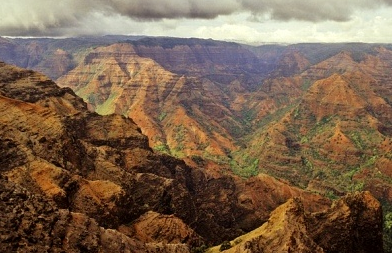 If you are planning on extending your trip to Maui is include the Hawaiian island of Kauai, good for you; as Hawaii's "Garden Isle" is truly a site to behold. As the oldest island in the Hawaiian chain, gardens aren't the only thing that there are to explore here; there are also several amazing geological wonders to see, which brings me to the Waimea Canyon.
Known as the "Grand Canyon of the Pacific," Waimea Canyon offers absolutely breathtaking views. While the canyon is not as old or as large as the Grand Canyon, it certainly is a site to behold, as there is nothing else like it anywhere else in Hawaii. Situated on the western coast of Kauai, the Waimea Canyon is spans some 14 miles in length, is one mile wide and stretches some 3,600 feet into the earth.
In order to grasp the grandeur of this geological wonder, stop at the Waimea Canyon Lookout, where you will get the opportunity to take in some truly amazing views of the effects that erosion and time have had on this part of the island. You will be truly amazed by the crags, valley gorges and crested buttes that can be seen at this lookout. You will also be delighted by the rainbow of colors, as the jagged cliffs that line the canyon are made up of many combinations of colorful rocks that are accented by emerald green foliage.
In order to get another look at the canyon from another perspective, drive down Waimea Canyon Drive, the main road of the area. This road will take you to the lower level lookout, the Waimea Canyon Overlook, where you will be able to see different aspects of this natural wonder. Once you have absorbed the views of this simply stunning location, get back on the Waimea Canyon Drive, which will take you along the mountains and into the Kokee State Park, which offers even more impressive views of the island and adventures all of its own.
If you are planning on visiting the Waimea Canyon, I do suggest that you plan your trip to avoid the crowds and the clouds. The best time to visit is in the early morning, before the crowds of tourist make their way to the canyon and before the clouds roll in and block some of the view.
Waimea Canyon is certainly one of the most amazing sights to behold in Kauai and I highly encourage you to see it on your trip to this island.