Iao Valley State Park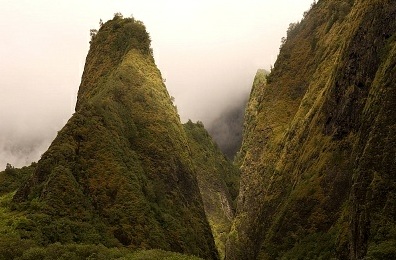 While there are certainly plenty of opportunities to enjoy the flora and fauna of Maui – breathtaking nature is virtually everywhere that you look – a trip to the Iao Valley State Park will surely give you a great opportunity to view some of the most breathtaking landscapes on the Magic Isle.
The Iao Valley State Park is located in the central portion of the island and comprises some 4,000 acres of land. It is comprised of lush emerald green peaks that reach out of the ground and tower over the land. Below the emerald green peaks, there is a matching emerald green valley floor, which is really something to experience. The Iao Valley State Park is also home to one of Maui's most iconic attractions, the Iao Needle. This iconic rock stretches some 1,200 feet up into the sky and is covered in lush greenery. It overlooks the Iao stream and it is very easy to hike to. Standing before this rock, you will truly feel your place in the earth and gain a great appreciation for the beauty, wonder and majesty of nature.
You can hike throughout the Iao Valley State Park and you will see some truly amazing displays of nature. Waterfalls, winding streams, great specimens of flora and even wild life are just some of the things that you will get to experience.
The Iao Valley State Park isn't known only for its beauty; it is also a sacred land, as it has historical significance for the island. This is where the Battle of Kepaniwai took place in 1790, when King Kamehameha the First battled the great Maui army and the islands of Hawaii were united as one, forever changing the history and future of Maui.
While you can certainly visit the Iao Valley State Park at any time of day, I highly advise going in the early morning or in the late afternoon. As with the majority of Maui's attraction, the Iao Valley State Park seems to be a favorite among other visitors and tends to be very busy during the mid-day. Also, visiting at these times of the day will allow you to avoid the heat of the day. No matter what time of day you visit, you can expect to experience warm, humid temperatures, so dress appropriately.
While there are certainly many places that you can enjoy the beautiful scenery of Maui, Iao Valley State Park is perhaps one of the most beautiful expanses of landscape that I have ever seen on this island.