Beaches of Kauai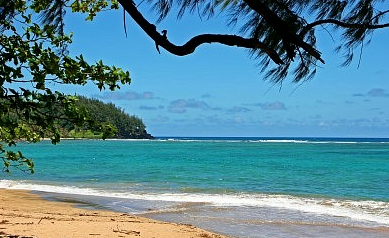 Being a tropical island in the middle of the Pacific Ocean, there are many amazing beaches that hug the coastlines of the island of Kauai, as you might guess. If you are traveling to this island, I am sure that a visit to the beach is something that you intend to include on your "Things to Do" list. While you can find a great beach along any of the coastlines, if you want to have a truly great beach experience, then take a look at this list, which highlights some of Kauai's best beaches.
Lydgate Beach Park. If you are staying on or around the east coast, check out Lydgate Beach Park. This beach is secluded from the ocean by a lava rock wall, which creates a secluded and calm lagoon. This beach is an ideal location to enjoy snorkeling, as well as simply playing around in the surf. There are restrooms, picnic areas and lifeguards at this beach, making it a great and safe place to hang out for the day.
Kealia Beach. This beach is also located on the east coast of Kauai and is a great place to enjoy the surf and sand. This beach stretches about ½ mile along the east coast and boasts golden sand and a sand bar, which create a great break in the surf. The waters here are relatively calm, but if you are planning on swimming, it is advised that you stay near the north end of the beach, as the waters here are the calmest. Lifeguards are on duty here, making it a safe swim location.
Kee Beach. Along the north shore of the island you will find Kee Beach. This beach sits at the end of Highway 560 and the crystal blue waters are filled with amazing reefs, making it an ideal location for snorkeling and scuba diving. The sand here is soft and warm, making a great surface for sunbathing or exploring the coastline.

Hanalei Bay Beach Park. Also located on the north shore, this beach is a great place to spend the day. There is a pier and a pavilion where you can stroll and take in the beauty of the beach. There are lifeguards on duty, but be warned that the currents here can get pretty strong, so use caution while swimming.
Poipu Beach Park. This beach is located on the south shore of Kauai and is one of the most famous beaches on the island. There is a natural wading pool, as well as picnic areas, showers, a pavilion and lifeguards.